FOR SALE – PRINTER FLEXO 13X24 REDCONDITIONED
Reconditioned machine
Contact us for quotation and performance
Plusieurs versions disponibles en stock, sous réserve de vente entre temps
Rénovation dans les ateliers CARTEC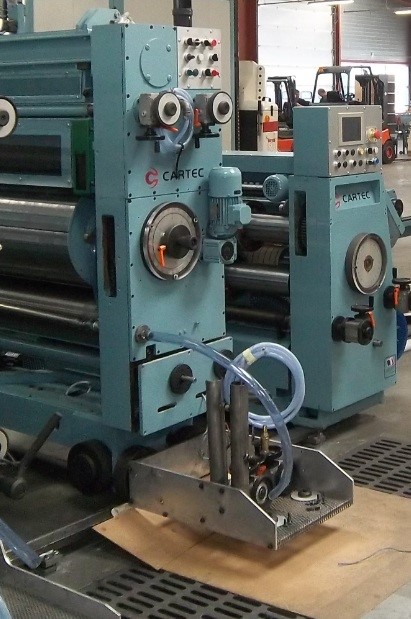 Information 
Printing by the top
Max printing width 2240 x 1150 mm
Hanging snaps by Matthews system
Cliché thickness : 6mm
Speed Variation on rubber cylinder
Peristaltic pump with variator flow control. The use of peristatiltic pump on the ink circuit makes it possible to have a constant and easuly adjustable ink flow, which avoids all the problems of splashing.
These pump also allow less brewing of the ink and therefore limit the effects of foam. they  are silent is of reduced maintenance.
Flexo group composed:

1 screen cylinder 80 or 100 cells / cm (to be defined)
1 cylinder convex grinding rubber
inking control and automatic flow control

Setting anilox / rubber
Screen / door adjustment
Automatic register with electronic control
Automatic calibration
Pneumatic Locking
Automatic washing fast long or short
Teflon-coated chutes for easy cleaning
Probe ink control with maximum level in the cylinders
Motorized lateral and longitudinal displacement
Standard new paint Cartec RAL 7035 grey